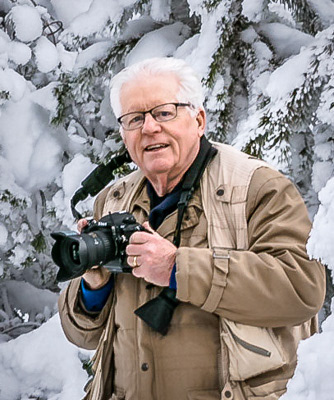 Ken finds in his photography that the pleasing elements of composition are very similar to those of artwork. Both are trying to capture lines, shapes, patterns, geometry, color, and textures by making effective use of bold, and at other times, delicate lighting. They might impart feelings such as awe, wonder, amusement and compassion. Photography forces someone to see something they may have looked at many times but have never seen before.
Ken has been a member of the Des Moines Camera Club for 14 years. Prior to moving to Ankeny, IA he had been a member of the Central Iowa Camera Club in Marshalltown, IA for 14 years with numerous awards in club photo contests.
He has also competed and received awards from the North Central Camera Club Council (N4C)– an organization of 40 camera clubs in the Upper Midwest. Ken served as President of that organization
Ken entered the Iowa State Fair Salon for the first time in 2013 with all four entries displayed and receiving three awards.
In his retirement as a mechanical engineer, he became fascinated with all aspects of digital photography after shooting film for many years.  He enjoys helping others with the hobby.
      >  Superintendent's Merit Award for Photographic Excellence, Iowa State Fair Photography Salon 2013
        >  Master Class Photographer of the Year, Des Moines Camera Club 2013

        >  Photographer of the Year, North Central Camera Club Council 2013

        >  Master Class Photographer of the Year, Des Moines Camera Club 2012

        >  Photographer of the Year, North Central Camera Club Council 2012

        >  First Place and Best of Show, Photo Contest, Ankeny Art Center 2006